Open Up Your Home to the Great Outdoors
Beautiful sliding patio doors are a great way to connect your living space to an outdoor patio area. Glass patio doors let in tons of natural light, open up the view, and can provide fresh air through open ventilation. Whether you are building a new home or are looking for a replacement sliding patio door, we offer a full range of materials like brass, satin nickel, and oil-rubbed bronze options, all with matching, color-coordinated locking handles.
Our sliding patio doors create a seamless transition from inside to outdoors with easy-opening doors that can be customized to match the architectural details of your home. These sliding patio doors have a roller and track system that ensures years of easy-to-open and dependable operation.
Unlike traditional French doors, sliding patio doors have a single glass panel that easily tucks in front of a stationary panel without taking the floor space required with a hinged, swinging door. Plus, our beautiful patio doors can be customized with a variety of grill options and colors to match your personal style and your home's décor.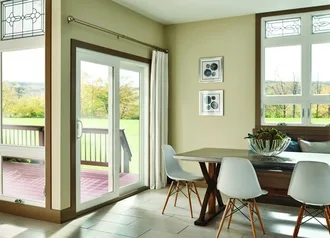 What Makes Our Custom-Made Sliding Patio Doors Better?
It's your home – we want to ensure that your new patio doors perfectly match your project goals. At The Window Source, we offer a variety of custom sizes and configurations that create sliding patio doors that are ultra-durable, safe, and cost effective.
Our doors can be fabricated in two-, three-, and four-panel styles that are made with aluminum and steel-reinforced vertical stiles for superior strength and durability. Each of our doors is code-compliant using tempered safety glass standard, as well as a full range of Low E insulating glass options that meet the stringent requirements of the ENERGY STAR Most Efficient designation program.
To ensure years of trouble-free operation, our doors have a moving panel that rolls smoothly on dual oversized ball bearing rollers within a stainless steel roller track that's housed on an extra strong fiberglass threshold. And to protect your loved ones, each door has an option for single, dual, and multi-point locking systems for maximum security. Additionally, you can opt for a secondary, foot-operated security bolt that can provide secure ventilation and air movement while maintaining a safe environment.
Features You'll Love:
Durable weather stripping, reinforcement, and interlocking center rails keep your door tight and secure.
Keeps your home comfortable while saving you money with an energy-efficient design.
Our premium vinyl doors will never chip, crack, or peel – and they never need painting.
Provides superior strength and durability while standing up to the most extreme weather conditions.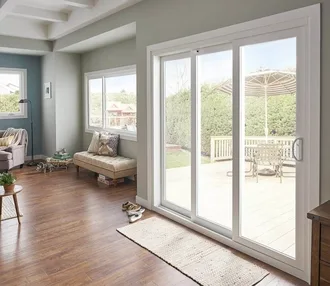 Call The Window Source Today For A Free Estimate!