The Window Source is giving back to our communities by partnering with Rebuilding Together to revitalize homes for seniors, veterans, and low-income homeowners.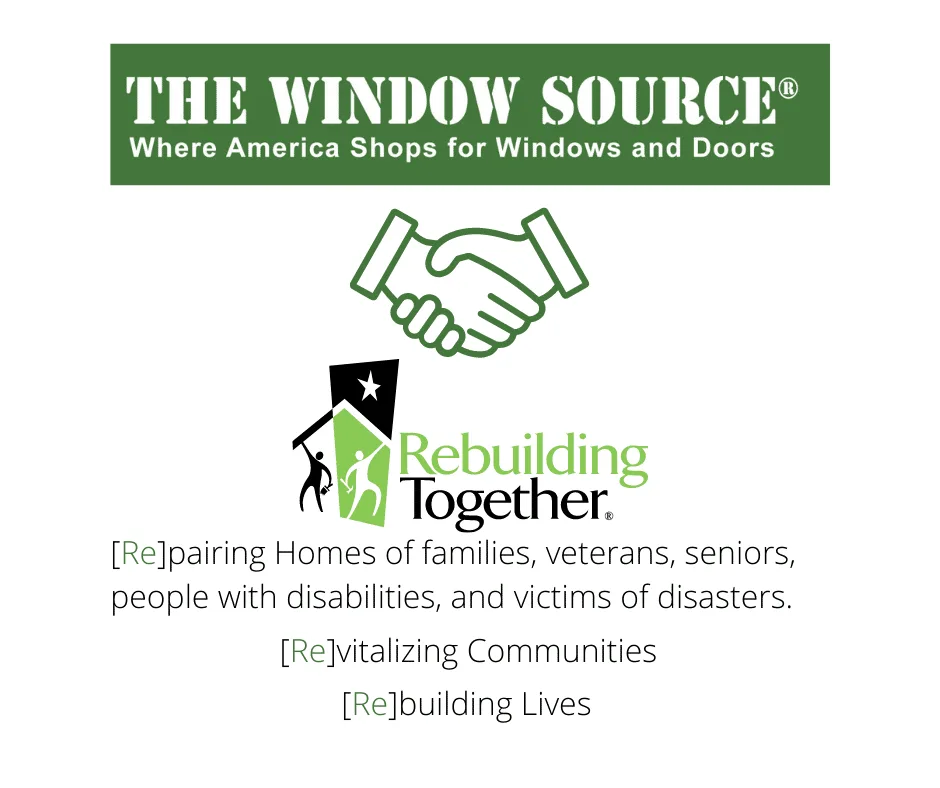 Rebuilding Together, a leading national nonprofit providing essential home repairs and revitalizing communities, has partnered on a national initiative with The Window Source. Our combined efforts will focus on addressing urgent housing challenges through critical housing repairs that help provide safe, healthy, and accessible homes for those in need.
Our locally-based owners at The Window Source, as well as their customers, are taking this opportunity to give back to their community by supporting Rebuilding Together's core mission — to revitalize communities by repairing homes for seniors, veterans, and low-income homeowners.
Many of our customers choose to participate by rounding up their purchase price as a donation to Rebuilding Together. As well, The Window Source location owners also choose to donate products, expert knowledge, or sweat equity to various Rebuilding Together projects in their communities.
The Window Source also gives back to the community by donating a portion of all sales to support safe and healthy housing facilitated through Rebuilding Together.
"The Window Source will donate a dollar for every window and door unit
purchased going forward," said Keith Kailian, President of The Window Source.
As a natural extension of our work, we are committed to partnering with Rebuilding Together to empower neighbors by improving their homes, as well as revitalizing our communities. We hope to achieve a greater level of impact by giving back to our neighbors, maintaining safe and healthy homes, revitalizing communities, and helping people build generational wealth through homeownership.
About Rebuilding Together
Rebuilding Together is the leading national nonprofit organization repairing the homes of people in need and revitalizing our communities. Through its national network of affiliates, Rebuilding Together works proactively and collaboratively with community leaders, long-term residents, funders, and volunteers to foster dialogue and create safe, healthy communities across the country. Learn more and get involved at rebuildingtogether.org.
About The Window Source
The Window Source is a network of carefully selected independently owned and operated entrepreneurs backed by a national brand. The Window Source believes that local family-owned businesses, supported by industry leaders with more than 40 years of operating experience, are an ideal combination for a company that values providing high-quality exterior home-improvement products at the possible best prices, as well as industry-leading customer service. Learn more about The Window Source location near you at https://thewindowsource.net/locations/.
Contact us for a free, no-obligation estimate.